2018 Honda Accord
New 2018 Honda Accord LX | FWD | Automatic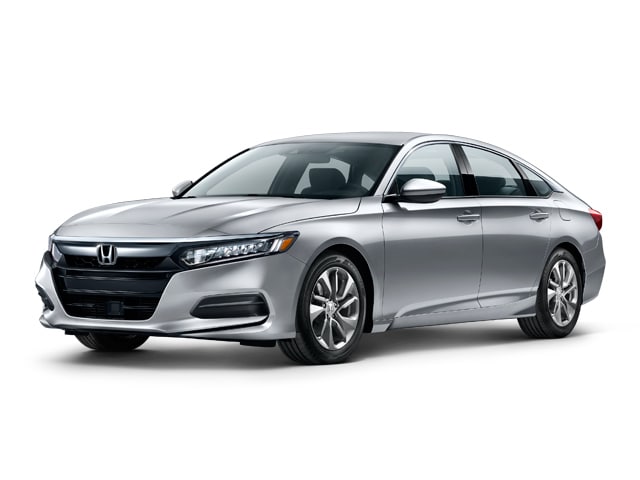 MSRP:$24,445
Carbone Discount (-):$489
Sale Price:$23,956
Engine: 1.5L I-4 cyl
,
Transmission: Variable
,
Exterior Color: Lunar Silver
,
Interior Color: Black
View Details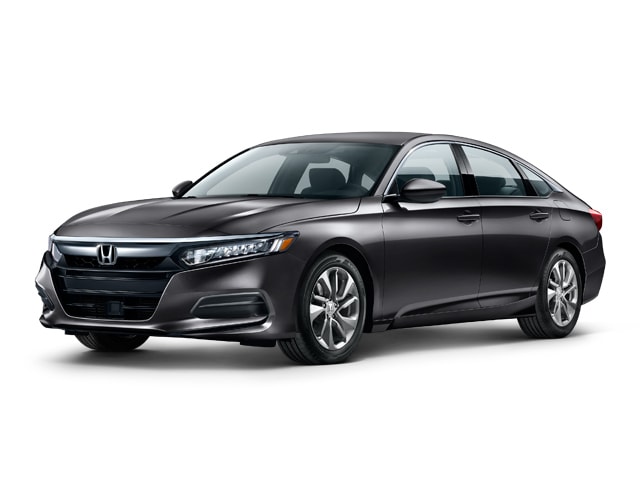 Engine: 1.5L I-4 cyl
,
Transmission: Variable
,
Exterior Color: Modern Steel
,
Interior Color: Gray
View Details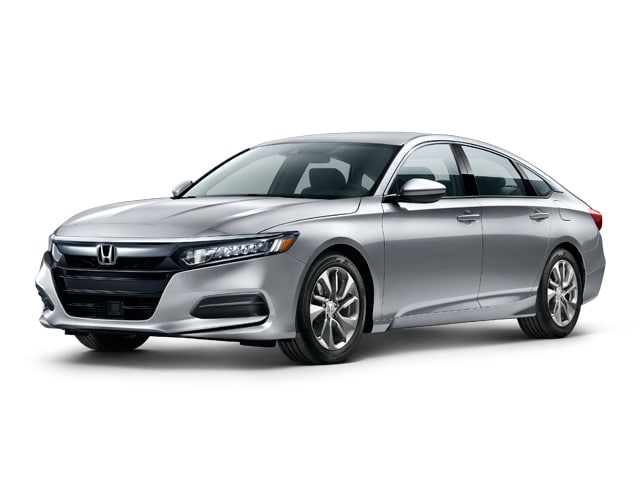 MSRP:$24,460
Carbone Discount (-):$489
Sale Price:$23,971
Engine: 1.5L I-4 cyl
,
Transmission: Variable
,
Exterior Color: Lunar Silver
,
Interior Color: Gray
View Details

Honda Accord
Exterior Features
Headlights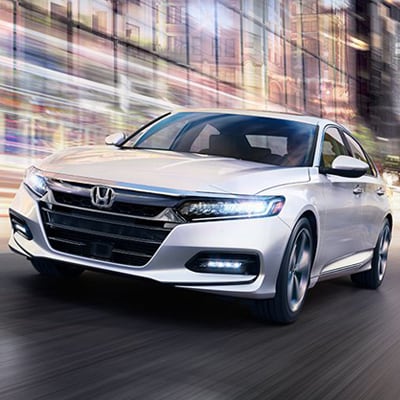 Sharp, Modern Headlights Help Light the Way
Visibility is important when you are driving, especially at night. With the 2018 Honda Accord's headlights, you will never have to worry about finding your way forward. Furthermore, the design of these headlights complements the overall aesthetic of this sedan. In other words, these headlights are both important for your driving needs, and stylish.
Options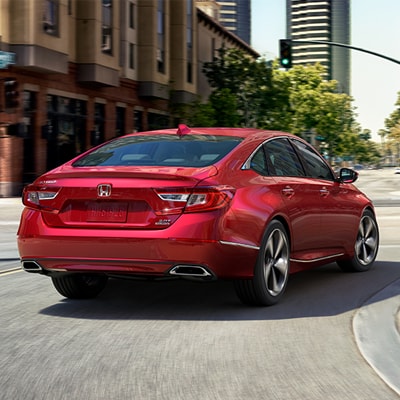 A Variety of Trim Levels to Choose From
There are four different trim levels available for you to choose from. This array of options helps you choose a model that is just right for your needs on the road, your personality, and your budget. The trim levels available with the 2018 Honda Accord are LX, Sport, EX, and EX-L. Stop by our dealership to see which one would be best for you.
Design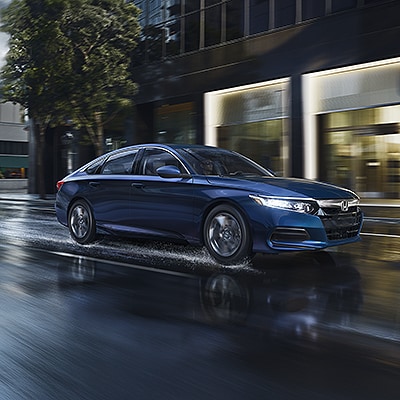 A Bold Exterior Design In Every Respect
The exterior design of this vehicle helps encapsulate the benefits associated with this vehicle. Every inch of it, from the fascia to the back end, exudes confidence, power, and style - all features the 2018 Honda Accord embodies. If you are looking for a sedan that will blow you away from the moment you see it, then this vehicle is for you.

Honda Accord
Interior Features
Technology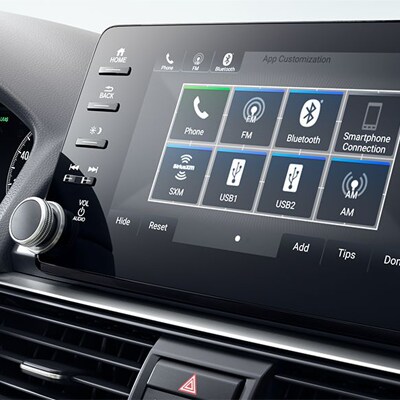 Safety Technology You Can Trust

The interior safety technology available with the 2018 Honda Accord is truly incredible. Including features like a collision mitigation braking system, a road departure mitigation system, adaptive cruise control, and more you will always be secure behind the wheel of this sedan.
Spacious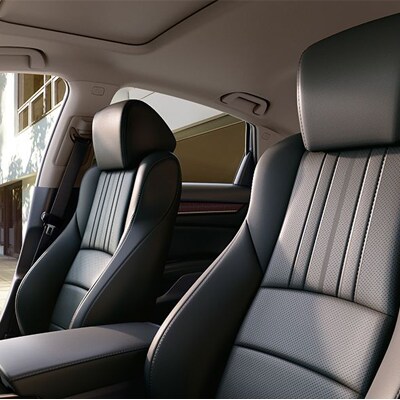 Plenty of Space for Passengers and Cargo
Interior space is especially important - no matter how stylish, or powerful your car is, you want to be sure that you will be comfortable driving it. The 2018 Honda Accord comfortably seats five people, while also offering a substantial amount of leg room. The seat design is also specially designed to enhance your comfort on the road, whether you are on a road trip across the country or heading to the corner grocery store.
Buy or lease a Honda Accord at Carbone Honda Bennington
It is no secret that the Honda brand is known for building vehicles that have a reputation for reliability, being able to go the distance, and style, which is why people come from all over to visit us at Carbone Honda Bennington to check out our selection. For smaller vehicles, the 2018 Honda Accord is our most well-stocked model, and you cannot go wrong with financing or leasing one.
Accord drivers are generally older than those behind the wheel of a Honda Civic, which also means they tend to have a longer credit history and higher credit scores. If that's the case for you, our finance team can look at the highly-attractive lower APR rates for buying an Accord. Most people choose 48-month or 60-month terms, and we can show you what the monthly payment would be for both. Yes, you will pay more than someone leasing since you're paying down the total cost of the vehicle, but once it's paid off you'll have extra money to put towards your savings, 401K, vacation, or even your next new Honda!
The Honda Accord was just redesigned for the 2018 model year and sports an all-new look that's especially classy, refined, and "European", and we've had a lot of people come into our dealership to take home the newest look. If you're a low-mileage driver who loves staying up-to-date on the most recent styles and/or technologies, then leasing is a great option! Honda Accord leases last for three-years, which means there's a good chance you'll be getting into a new model around the time of a mid-cycle refresh or an all-out redesign. Leasing is also great if you're on a tighter budget, since you'll have a lower monthly payment.
As you can see, choosing between buying or leasing this midsize sedan depends on your personality and your budget. If you're on the fence, we can help you decide. All you need to do is stop into our dealership for a test drive and a sit down with our team. Bennington, VT, where we are located, is unique because it's near the border of two states. This allows us to serve shoppers from Bennington, Troy, New York, and also Massachusetts residents from Williamstown, North Adams, and Pittsfield! Come on in to get the financing process started!
Connect with Our Team Today to Get Started
Reach out to our team today with any questions that you may have, to make arrangements for a test drive and to gather additional information for your car shopping research. We are happy to help, and look forward to your next trip to our showroom here in Bennington soon.