2018 Honda Civic
New 2018 Honda Civic LX 2WD | CVT Automatic

Honda Civic
Exterior Features
Style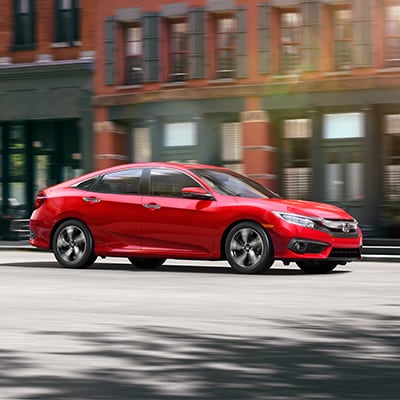 An Exterior Aesthetic That Is As Memorable As It Is Powerful
The 2018 Honda Civic is instantly recognizable on the road. One of the reasons this is true is because of its exterior design. Combining sleek curves, sharp angles, and an overall aesthetic of authority and confidence, this vehicle fits right in on the road and demands respect from other drivers. Furthermore, its sleek body helps you move faster, greatly enhance your agility.
Headlights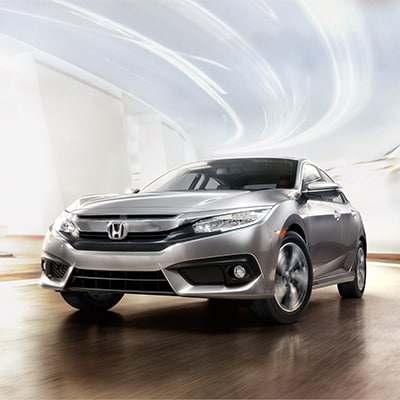 All-LED Headlights Illuminate Your Way
You need clear visibility if you are going to be successful on the road; this is especially true if you are driving at night. With the 2018 Honda Civic, though, you can confidently traverse the roads no matter if it's the middle of the night or the beginning of the day. This is due to the 2018 Honda Civic's all-LED headlights, which easily light the roads.
Trim Options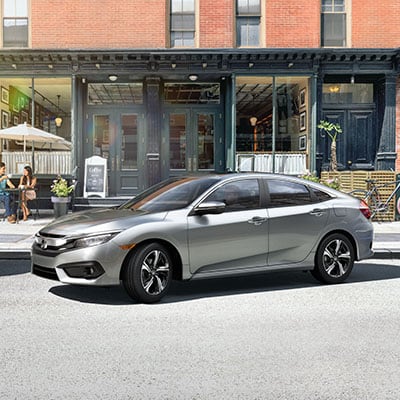 Five Trim Levels to Choose From
We pride ourselves on providing our drivers with the freedom to choose a model or a trim level that best suits their needs on the road. That is why the 2018 Honda Civic has five different trim levels to choose from. They include the LX, EX, EX-T, EX-L, and Touring models. These models all have an excellent array of features and abilities.

Honda Civic
Interior Features
Comfort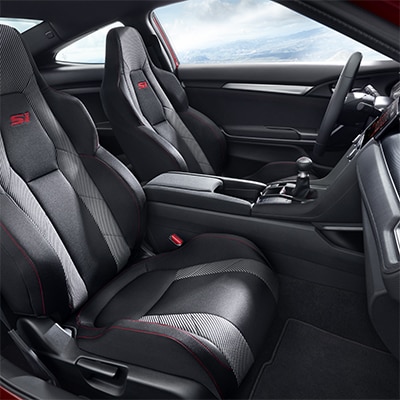 Comfortable Seating Design
When you are in the car for long periods of time, you want the assurance of knowing that you are going to be comfortable during your travels. With the 2018 Honda Civic, supreme comfort comes standard. With three cloth and three leather interiors, you bring a sophistication, and a flamboyant flair, to your Honda Civic.
Technology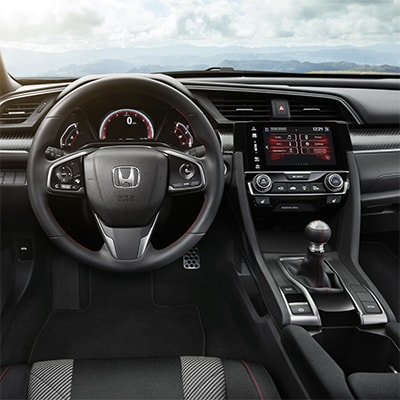 Cutting-Edge Safety Technology At Your Disposal
The 2018 Honda Civic comes with a variety of advanced safety features that help you navigate the roads with confidence and fluidity. This includes features like Honda Sensing, a collision mitigation system, a road departure mitigation system, adaptive cruise control, and more! All of these features help ensure your awareness and assurance behind the wheel.
Carbone Honda Bennington is Proud of our Dealership Experience Shoppers Can Expect
Here at Carbone Honda Bennington, proud to serve the automotive needs of drivers from Bennington and Troy, NY for decades, we welcome shoppers interested in making a change when it comes to the vehicle featured in your driveway. Our carefully selected new Honda model and pre-owned vehicle lineups accompany helpful customer service, along with professional financing and maintenance, to ensure that you are covered from top to bottom when deciding to make a new vehicle investment.
New Honda models discovered here in our showroom, a convenient drive for shoppers from Williamstown, North Adams and Pittsfield, MA, come with proven reputations and designs that you can always depend on. These vehicles are stocked with modern technology for your entertainment and connectivity needs, while featuring capable powertrains and driver-assist safety options to ensure a well-rounded commuting experience. There is plenty to like about these popular vehicles, but pre-owned shoppers will discover that we also carry quality used vehicles that fit with what your budget requires.
Financing experts will be here for you after your new Honda model or pre-owned vehicle has been picked out here in Bennington, reviewing available Honda leases and auto loans to help you discover a plan that is right for you. Following your secure purchase or lease of a vehicle here at our dealership, that doesn't have to be the end of the transparent relationship with our team. Our factory-trained technicians will be here for you throughout the maintenance life cycle of your vehicle in our service center, with genuine Honda parts readily available to order whenever you need to make an upgrade or correct a problem.
Connect with Our Team Today to Get Started
Reach out to our team today with any questions that you may have, to make arrangements for a test drive and to gather additional information for your car shopping research. We are happy to help, and look forward to your next trip to our showroom here in Bennington soon.