2018 Honda CR-V
New 2018 Honda CR-V LX | AWD | CVT Automatic
>

Honda CR-V
Exterior Features
Available All-Wheel Drive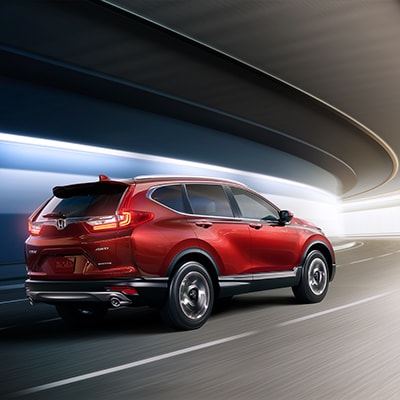 Traction that Counts
Road-gripping capabilities come by way of available all-wheel drive in the Honda CR-V, which complements the explosiveness of the available turbocharged I4 engine of this new Honda model found under the hood. Slick road surfaces and changes in the weather won't matter with this type of premier control.
Roof Rails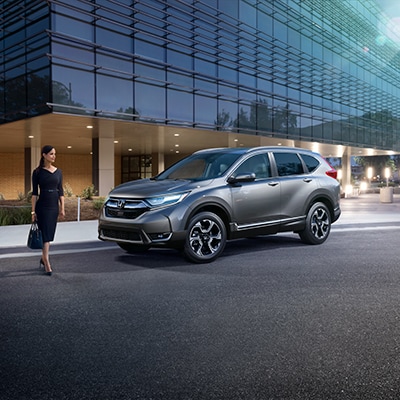 A Necessary Cargo Addition
Store your bikes and take off for the trails with no reservations in the Honda CR-V, which comes with available roof rails to help you store your personal items up above when space inside is limited. This allows you to accommodate all of your passengers as normal and fill up the ample cargo space inside of your cockpit, while at the same time traveling with the fun sporting equipment you wish to utilize in nature.
Headlights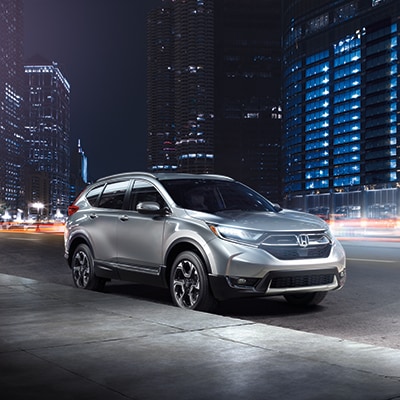 Maintaining a Clear Line of Sight

Having a clear line of sight during any commute is important, and lights that illuminate your presence to others can make a difference with consistent safety. Stylish LED headlights are available on the Honda CR-V to pierce through the darkness and feel confident throughout your travels.



Honda CR-V
Interior Features
Connectivity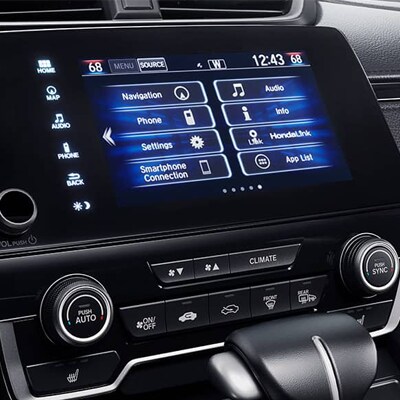 Engage Throughout your Drive

Standard Bluetooth connectivity and a four-speaker sound system accompany a five-inch color touchscreen that is centered in the front of your cockpit to access through voice-activated control and the brush of a fingertip. Whether you plan on contacting friends or streaming your favorite playlists, the possibilities are there with the digitally immersive Honda CR-V.
Safety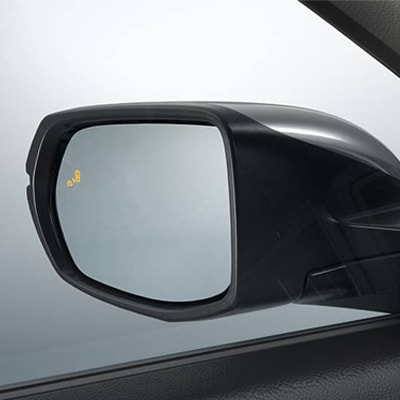 Honda Sensing Technology

Key alerts and emergency interventions can be the difference between a peaceful ride and a collision with another vehicle or object. Prevent these hazards from occurring with Honda Sensing technology, available for the Honda CR-V and featuring adaptive cruise control, lane keep assist and much more.
Finance or lease your next Honda CR-V with Carbone Honda of Bennington
After reading the information above, it's easy to see why the Honda CR-V is such a popular model for families, young professionals who want extra room, and many others! Now the next step is coming into our dealership, going on a test drive or two, and then sitting down to talk numbers.
Everyone on our finance team is extremely experienced in the automotive world and is eager to get you into a new vehicle at a payment plan that works with your budget. You can complete a finance application when you arrive at our dealership or we can pull up the information you may have filled out from the comfort of your home. We'll review your credit history, value any trade-ins, and then see what we can come up with.
If you're interested in buying a Honda CR-V to own for the long run, the finance team will see what APR rates are available. If you have a strong credit score and long credit history you may be eligible for 0% or low APR rates!
Prefer leasing? No problem. We offer attractive monthly lease payments for buyers who can put money down, and even if you don't a down payment budget we can still put together a plan so you can drive away with a great Honda CR-V to have for three years.
We believe in making the finance process fast, easy, and transparent. We'll make sure you understand all the numbers and go over any concerns you may have. To get the process started, come into our dealership this week. We're located in Bennington, Vermont, which puts us close to two state borders. Because of our unique location we can serve customers from Williamstown, North Adams, and Pittsfield Massachusetts, as well as Troy, New York. We look forward to meeting you and helping you secure a great deal on your Honda CR-V.